Karpet Mills planning for future with NEW Head Office Facility – further investment for leading North East flooring firm
Karpet Mills, which currently operates five stores and employs 40 people across the region, have opened their brand-new head office facility, complete with multiple offices, boardroom and internal storage space.
The company has invested over £600,000 in the new, purpose-built office space, located in the busy Bridge End Industrial Estate in Hexham, Northumberland and will be home to several Karpet Mills departments, including Accounting & Finance, Marketing & Advertising. It will also act as a hub for Karpet Mills commercial, contract and business development.
Joel Dickinson, Operations Director at Karpet Mills said "By investing in the new Head Office premises, we have ensured that Karpet Mills is perfectly set up for the future. Our flagship new building gives us a platform to build upon our long-standing reputation as the North East leading flooring supplier."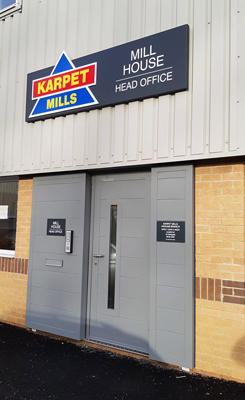 The completion of the new premises marks a successful end to what has been a landmark year for Karpet Mills, as the 6th generation family run business opened a brand new flagship store in Hexham, Northumberland and also heavily invested in the extensive refurbishment of their branch in Hetton-le-Hole.

Karpet Mills combines the experience gleaned from over a century trading with the modern-day expectations of quality and service to provide the full package for every customer. The new Hexham branch will follow the pattern set by the Kingston Park, Hetton-Le-Hole & Gateshead branches and trade 7 days a week.
Visit Karpet Mills, at Market Street, Hetton-Le-Hole (only 10 minutes from Sunderland and Durham), Airport Industrial Estate, Kingston Park, Newcastle Upon Tyne, Tyne Bridge Retail Park Gateshead (next to Matalan) and the NEW Hexham branch, located at Gilesgate Hexham (less than 5 minutes from Tesco).

Find your nearest Karpet Mills here...
Share