Carpet shopping for the 21st Century – Karpet Mills launch "Virtual Shopping" experience for its customers
Karpet Mills, the North East leading carpet and flooring retailer, has taken the carpet shopping experience to the digital age, by launching Virtual 360⁰ Tours of each of their stores.
The virtual tours, developed by Peter Greig of Chameleon 360, allows users to manually navigate around each Karpet Mills store, showcasing the huge range of flooring choices that Karpet Mills has readily available across their three flooring superstores.

VIEW THE ONLINE TOURS HERE

Karpet Mills director, Joel Dickinson explains that the secret to success is keeping things simple by offering the best choice, the best quality and the best prices, and with the launch of the new virtual tours, customers can see all of this from the comfort of their own home. "The new virtual tours allow our customers to see the huge range of products we have available, including carpets, vinyl, and our huge selection of top -brand remnant bargains. We want to make the carpet shopping experience as simple and easy for our customers as possible, so by using the tours, they can explore each of our stores, viewing our full range, helping to give them a better idea of colours and styles they like for when they choose to visit."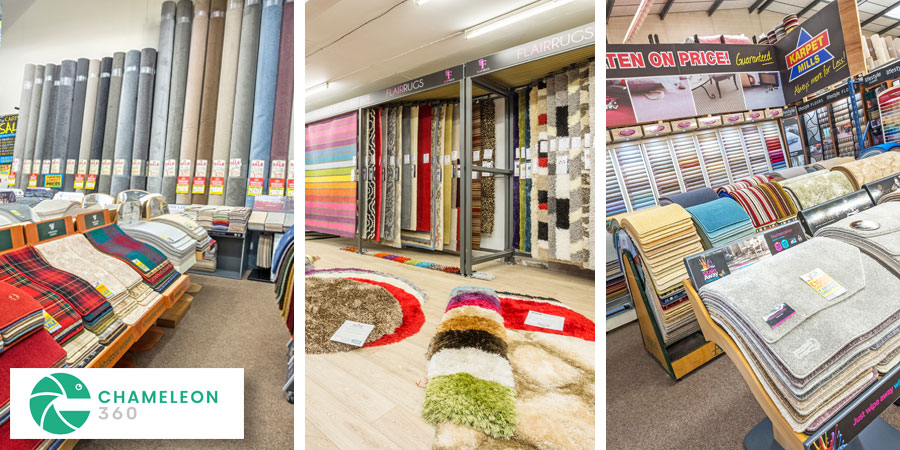 Peter Greig, owner of Chameleon 360 added "It was great to work with a successful North-East company like Karpet Mills. They have so much on offer across the three stores, the virtual tours are a great way of showcasing their huge range of carpets and flooring that they have readily available. The virtual tours allows customers to navigate around the store using your laptop, tablet or mobile phone, similar to Google Maps, so as soon as a customer steps foot into a Karpet Mills store, they already know which carpet, vinyl, laminate or rug they want to buy."
Despite trading since 1878, Karpet Mills understand the need to keep their promotions and product portfolio fresh and new as well as maintaining the values that have upheld the company as market leader for 6 generations. Joel adds, "The key to operating successfully in a competitive market it to offer customers what they want, when they want, and this changes over time."

Karpet Mills combines the experience gleaned from over a century trading with the modern-day expectations of quality and service to provide the full package for every customer, with all three branches, Kingston Park, Hetton-le-Hole and Gateshead, trading 7 days a week.
For more information on Chameleon 360 and the virtual tours and services they can offer, follow their Facebook page here
Share