Moduleo Aftercare
How can I best maintain my Moduleo® floor?
Each Moduleo® floor is designed to last, but to ensure that it stays at its luxurious best for years to come, follow a few regular routines. Cleaning is easy, with just an ordinary broom, microfibre cloth, vacuum cleaner or damp mop with approved detergents.
It's advisable not to use aggressive cleaning agents on your floor, to use steam cleaners or to let puddles of water to remain after cleaning. The Protectonite PU finish of the wear layer eliminates the need for any special treatment after installation, but over time, an extra treatment with polymeric dispersion or a PU gloss polish may help if visible contaminations begin to develop.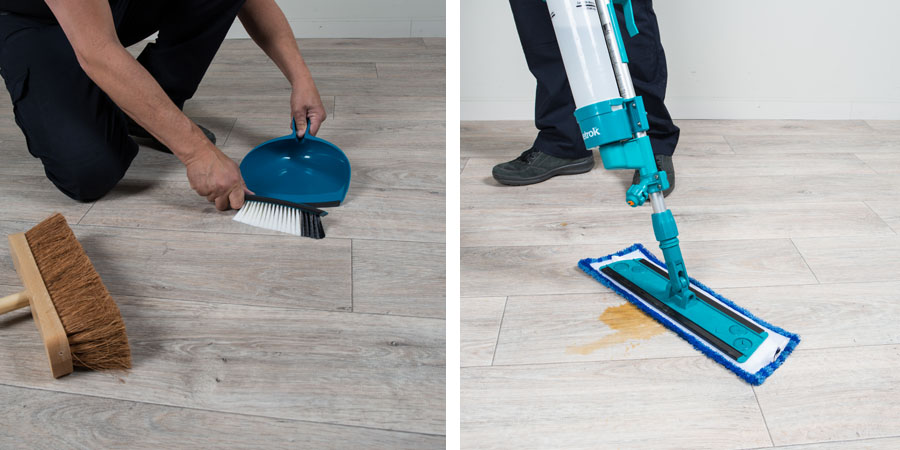 Moduleo® recommends Xtrafloor maintenance products
Their range of cleaning products have been specially formulated for use with Moduleo® products and most vinyl, rubber and linoleum floors. For more information visit www.xtrafloor.com
Moduleo have put together a Floor Maintenance Guide which provides you with everything you need to know in order to take good care of your Moduleo® floor including sweeping, mopping, spray cleaning and scrubber drying.
Is my Moduleo® floor scratch-proof?
The hardwearing top coating of all Moduleo® flooring is scratch resistant to European directives, but not scratch proof. Sharp objects can scratch the floor, so certain precautions should be taken.
The effective use of a doormat reduces the instances of sharp objects such as dust, sand and stones on the soles of your shoes. Furniture legs (chairs, tables, cabinets, etc.) should have suitable protection at their base, while office chairs should have soft wheels. The wheels and the vacuuming opening of you vacuum cleaner should not be damaged or too hard, and the wheels should rotate freely.
Can I clean my Moduleo® floor with a steam cleaner?
The Protectonite PU protective layer of a Moduleo® floor makes it extremely easy to maintain. Cleaning with a steam cleaner is not necessary and we strongly urge you not to use it. Hot blown steam can cause distortion in the boards, and there is a higher risk of floor damage. The steam can also enter through the joints and dissolve the adhesive bonding, leading to the risk of boards becoming unstuck.
Share